Lambda Kappa Omega News and Events
By: The Health and Wellness Committee
On May 20, 2023, Alpha Kappa Alpha Sorority, Inc., Lambda Kappa Omega chapter participated in the American Cancer Society's Relay for Life of Northern Virginia. The Relay for Life movement is a fundraiser dedicated to helping communities bring awareness to the fight against cancer. In memory and honor of those impacted by cancer, we will share cancer stories through our Cancer Has a Face presentation.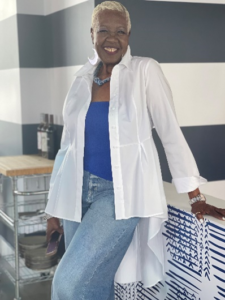 I was diagnosed in 2003 with stage 2 ductal invasive breast cancer, which was only detected through mammography. I had a history of breast cancer in my family but had put off getting regular mammograms. I had all kinds of excuses for not doing so, until the impending birth of my granddaughter motivated me to focus on my health because I wanted to see her grow up. It was only by the grace of God that my cancer was detected early. My treatment included a radical mastectomy and a few months of chemotherapy. I experienced nausea, weight, and hair loss. I can't emphasize enough the importance of early detection through regular mammograms. This year, I celebrate my 20th year of being cancer free, and my lifesaving angel, my granddaughter Aija Graham, turns 20!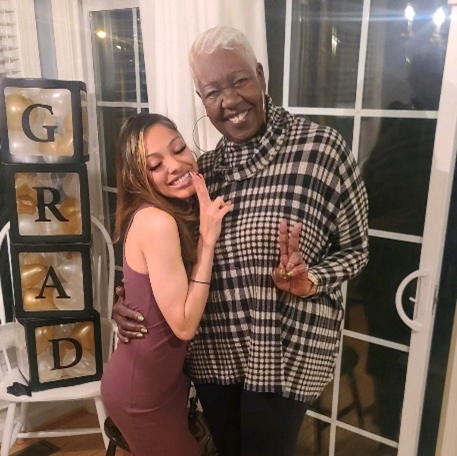 My Story: Deborah Tatum-Johnson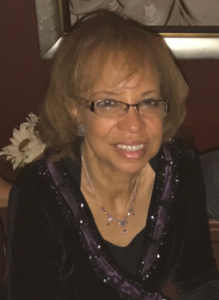 At age twelve, I had a non-malignant tumor removed from my left breast. There were no further indications of tumors or masses until I was 42. I was diagnosed in 1996 with ductal cell carcinoma. A radical left breast mastectomy and silicone breast implant were performed. I remain in the National Institute of Health monitoring and tracking study for persons diagnosed with ductal cell carcinoma. Thank you for the opportunity to share my story to alert the public that breast cancer may occur at any age and with or without other health conditions. Thanks be to God: 27 years of no obvious evidence of cancer on mammograms.
My Story: J. Allison Riley
At age 32, I was diagnosed with stage 4 Invasive Ductal Carcinoma, which was discovered in my right breast. My diagnosis was nothing short of shocking because I was physically fit and followed a healthy diet. My initial medical visits following an indication that something wasn't "right" ended with an all clear. I opted for a second opinion, which is the only reason I'm here today. My treatment consisted of a bilateral mastectomy with a tram flap breast reconstruction, followed by six rounds of chemotherapy. Because of my age, not much of a family history, and the fact that I have two female children, I decided to be gene tested. My results indicated I carry the breast cancer2 (BRCA2) gene.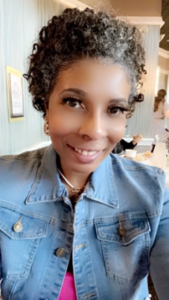 This information allows my daughters to be tested and monitored earlier than the standard age. I share my story to encourage second opinions, gene testing, and to ensure the next generation is well equipped with all health-related information to make the best decisions for their future. On May 5, 2023, I celebrated my 19th year cancer free, and Iam encouraged and hopeful for my future.
Your Mental Health Matters
By: The Health and Wellness Committee
May is Mental Health Awareness Month. Often, Black women are looked at as being "strong" and "superwomen." When we aren't exhibiting our "strong Black woman/superwoman persona," we are looked at as "weak" and "emotional." However, Black women are tired. It's exhausting to carry the weight of the world on our shoulders. Alpha Kappa Alpha Sorority, Incorporated®, Lambda Kappa Omega Chapter encourages you to disrobe your superwomen persona and become vulnerable.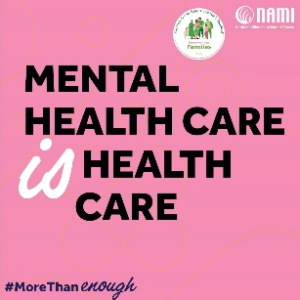 Did you know:
Black American adults are 20 percent more likely to experience serious mental health problems, such as major depressive disorder or generalized anxiety disorder.
Although rates of depression are lower in Blacks (24.6 percent) and Hispanics (19.6 percent) than in Whites (34.7 percent), depression in Blacks and Hispanics is likely to be more disabling and persistent.
Mistrust of medical and mental institutions is rooted deeply inside the Black community as a result of generations of racism, discrimination and trauma.
As a result of racism, Black people are at an increased risk of developing psychosis, in part due to high amounts of chronic stress and trauma.
More than 80 percent of Black Americans are very concerned about the stigma associated with mental illness, which discourages them from seeking treatment.1
You can break the stigma associated with mental health by taking care of you. Here are a few things you can do:
Rest!
– You cannot pour from an empty cup. Be sure to get seven to eight hours of sleep daily.
Move!
– Try moving your body at least five times a week. Movement can consist of a dance break, walking, yoga, or a fitness class.
Nutrition is key!
– Incorporate more fruits, vegetables, and water into your daily eating plan.
Connect!
– Call that girlfriend you haven't conversed with in a while and plan a ladies' date.
No is a complete sentence!
– You don't have to keep yourself warm by setting yourself on fire! Prioritize what you can do today and complete that.
Try something new!
– Learn a new skill or go back to that hobby you've put off the last few months. Pick up a great book and unplug for a few hours.
Lastly, if you are experiencing moments of stress, sadness, or burnout, seek help. Be sure your mental health professional is culturally competent and sensitive to your concerns, as a Black woman.
_______________________________

1
Source:
Resources to Recover
Educational and Charitable Foundation Awards $36,250 in Scholarships
By: Dr. Eugenia Gardner, Educational and Charitable Foundation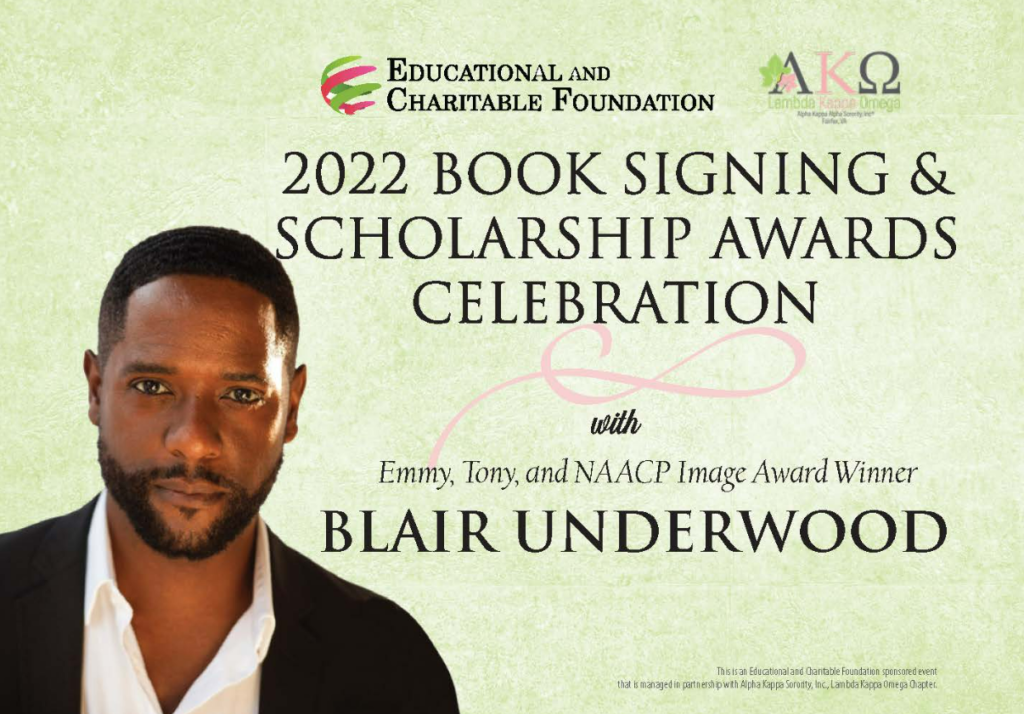 The Educational and Charitable Foundation (ECF), working with the Alpha Kappa Alpha Sorority, Incorporated®, Lambda Kappa Omega Chapter, held its annual Book Signing and Scholarship Awards Celebration on May 7, 2022. Over $36,000 in scholarships and teacher grants were presented to students and teachers in the local area. The 2022 Book Signing featured internationally acclaimed author and actor Blair Underwood, who discussed the book Olympic Pride, American Prejudice.
The Educational and Charitable Foundation empowers the northern Virginia community for a brighter tomorrow through education, service, and philanthropy. "The Educational and Charitable Foundation provides academic achievement programs and scholarships, advances culture and civic engagement, enhances economic empowerment, and promotes health, wellness, and social welfare throughout Fairfax County and northern Virginia communities through partnerships and strategic alliances. The Book Signing allows us to celebrate our academic and community enrichment programs with our partners and the broader community," said ECF president Robyn C. Jones.
"With the support of several community supporters, we awarded $17,500 in scholarships to 2022 graduates, a $15,000 to a female medical student and we presented $3,700 in teacher education grants. We are proud to continue ECF's 20-year legacy of supporting academic excellence in the region," continued Jones. This year, ECF expanded its awards to recognize Community Shining Stars, individuals who've exemplified exceptional service in health and wellness, education, and economic empowerment.
2022 Scholarship Recipients are:
Natania Elias, Lake Braddock Secondary School, attending Harvard University
Leah Cobb, Patriot High School, attending North Carolina A&T State University
Vishnupriya Alavala, Freedom High School and the Academies of Loudoun, attending Virginia Commonwealth University
Catherine Caputo, Woodgrove High School, attending Virginia Polytechnic Institute
Teacher Grant Recipients are:
Brittany Walker, Stratford Landing Elementary School
Dr. Tiffany Spann Casey, Mt. Vernon High School
Jamilla Gault, Mullen Elementary School (sponsored by the Cora Faith Walker Foundation)
"We are honored to join our nation in celebrating Teacher Appreciation Week. These grants support classroom instruction, ensure student learning and demonstrate our appreciation and support of all teachers," said Sanita Walker-Resper, president of the Alpha Kappa Alpha Sorority Incorporated® Lambda Kappa Omega Chapter.
The following Community Shining Stars were recognized:
Education Recipient: Reverend Dr. Howard-John Wesley, Senior Pastor Alfred Street Baptist Church
Economic Empowerment Recipient: Mr. Warren Thompson, President &CEO Thompson Hospitality, LLC
Health Recipient: Mark Health, LCSW
The event also featured a moderated discussion with actor, and author, Blair Underwood, who presented Olympic Pride, American Prejudice the Untold Story of 18 African Americans who defied Jim Crow and Adolf Hitler to Compete in the 1936 Berlin Olympics.
Lambda Kappa Omega Donates Greeting Cards To Local Nursing Homes
By: Marcia Morris, Programs Chair
Alpha Kappa Alpha, Sorority, Inc.™, Lambda Kappa Omega chapter in April set out to donate more than 1,000 greeting cards to nursing home residents in Fairfax County. With your help, we were able to reach our goal. Alpha Kappa Alpha, Sorority, Inc.™, Lambda Kappa Omega chapter would like to extend a huge thank you to all of our community volunteers who helped us exceed our goal. We could not have done it without you. This year, Alpha Kappa Alpha Sorority, Inc.™ observed Global Impact Day by working with our corporate partners and others to connect with and support our sisters and brothers at home and abroad by donating our time, talents, gifts, and resources to those in need.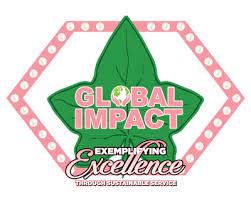 Walking Ivies Dedicate 2022 Relay for Life to Former President
By: Corina Adams, Health and Wellness Committee Chair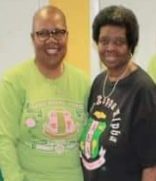 On Saturday, May 21, the Relay for Life of Northern Virginia hosted its annual event to raise money to support those impacted by cancer. Alpha Kappa Alpha, Sorority, Inc.™, Lambda Kappa Omega chapter and its Walking Ivies raised $10,000 for the American Cancer Society.
This year, the Walking Ivies celebrated the life and legacy of recently deceased former President of Alpha Kappa Alpha Sorority, Inc, Lambda Kappa Omega Chapter, Ruth Laverne Albright Buchanan, now known as an Ivy Beyond the Wall. Laverne was a fervent advocate for cancer survivors in Fairfax County. She dedicated countless hours to the Kozy Kerchief™ campaign to provide hats and caps to those undergoing chemotherapy in Fairfax. Last year, Laverne also supported the chapter's Pretty Aware initiative to provide education and support for those undergoing cancer treatment. In her personal time, Laverne worked on numerous cancer support efforts and donated her time and talent to supporting and uplifting those in the community. Laverne was a two-time ovarian cancer survivor, and she shared her passion for ensuring that women did not suffer alone after receiving their diagnosis.
The Walking Ivies sold commemorative t-shirts that included the letters LVB under their team name to symbolize their walk was to honor LaVerne Buchanan. This effort raised nearly $700 for the American Cancer Society. Participants also raised funds on their Walking Ivies team page, earning Relay for Life's recognition as a Jade Team.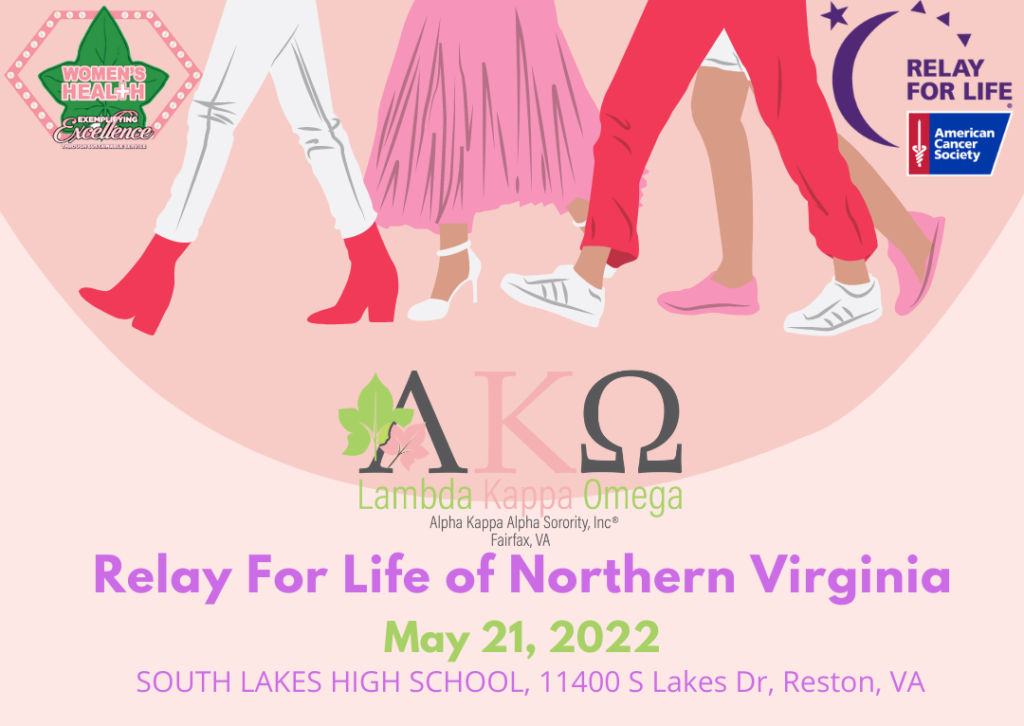 Lambda Kappa Omega Spotlights Renowned Author Sadeqa Johnson
By: Hilary Grant Dixon, Sisterly Relations Committee
On Tuesday, February 22, the ladies of Alpha Kappa Alpha Sorority, Inc.™, Lambda Kappa Omega Chapter® met with an outstanding Black woman author as part of their Black History Month celebration. The Ivy Bookworm Sister Circle selected Yellow Wife: A Novel, by Sadeqa Johnson, as their February feature. The novel tells the story of Pheby, an enslaved woman living in the most infamous slave holding pen and "breaking" center in Virginia known as The Devil's Half Acre.
Inspired by actual events, Pheby is forced to make sacrifice after sacrifice in order to keep herself and her family safe in their pursuit of freedom. The Ivy Bookworm selected this novel after several members expressed enthusiasm about the title and mentioned it as a selection on their "to read" list.
The Ivy Bookworms led a riveting discussion with Johnson where she further explained what inspired her masterful work. What sets Yellow Wife apart from other novels of its type is the fact that it is steeped in Virginia history, written by a Black woman who was so moved by the true story upon which Pheby was subsequently based, she felt it was her responsibility to give a loud, clear voice to the voiceless. In so doing, Johnson created a riveting account of perseverance in the face of oppression. In addition to Yellow Wife, Johnson is also the internationally best selling author of four novels and the recipient of numerous accolades including a recipient of the National Book Club Award, the Phillis Wheatley Award and the USA Best Book Award for best fiction. She is a Kimbilo Fellow, former board member of the James River Writers, and a Tall Poppy Writer.
The Ivy Bookworm Group is a proud participant in Lambda Kappa Omega's Sister Circles, which are thematic groups of shared interest designed to increase Sisterly Relations across the chapter. The Ivy Bookworms is composed of 25 members, readers and authors alike, who enjoy being introduced to new titles and genres, and discussing the various viewpoints such books elicit. To learn more about February's book selection and author, check out our video on YouTube.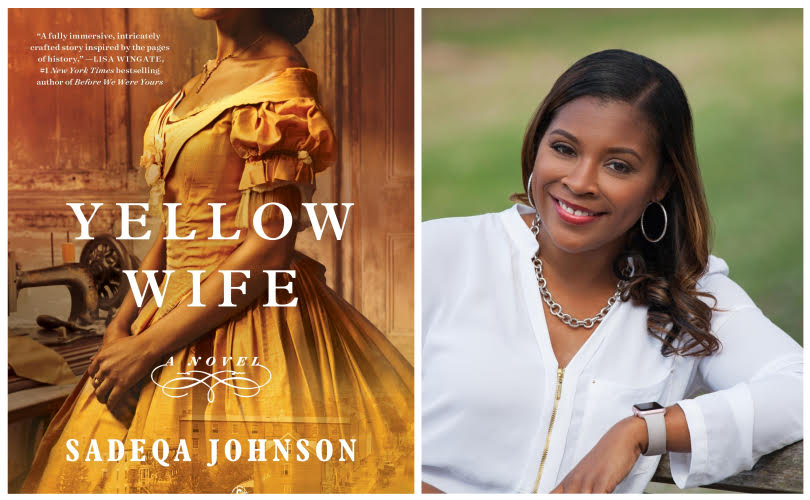 Membership Committee Will Host PEARLfect Pairing Virtual Party
By: Sandra Graham, Membership Committee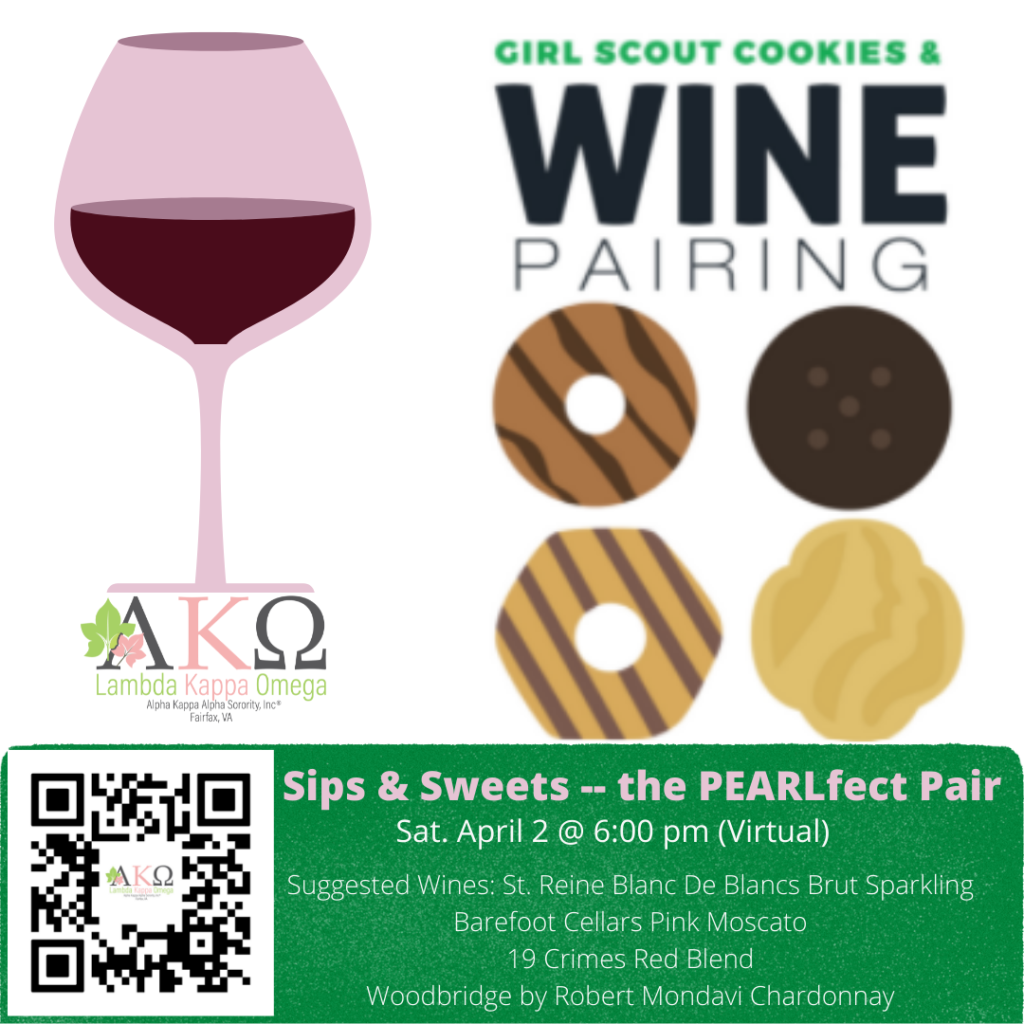 Alpha Kappa Alpha Sorority, Inc., Lambda Kappa Omega Chapter will host a fun-filled virtual Girl Scout Cookie and Wine Pairing Soiree on Saturday, April 2, 2022. We will be pairing wines with a variety of tasty Girl Scout treats. Stock up on Do-Si-Dos, Lemon-Ups, Samoas, Thin Mints, Toffee-Tastics, and Trefoils. The event is open to the public so save the date, spread the word, and order your cookies from our suggested Girl Scout cookie vendors listed below before online cookie sales end on March 13, 2022. In-person delivery is no longer available at this time.
To register for this event, visit Pearlfect Pairing. The wine list is also included in the registration information.
The PEARLfect Pairing Cookie Vendor List
This Black History Month We Honor Our Health and Wellness Trailblazers
By: Kerry Cropper, Health and Wellness Committee
Alpha Kappa Sorority, Inc. has been committed to improving Black Health and Wellness in communities since it's early years. During this Black History Month (BHM) we would like to highlight trailblazers and initiatives that have saved lives all over the world in honor of the 2022 BHM theme: Black Health and Wellness.
Pink Goes Red 2022 Featuring Mixxed Fit Is a Virtual HIIT
By: Corina Adams, Health and Wellness Committee Chair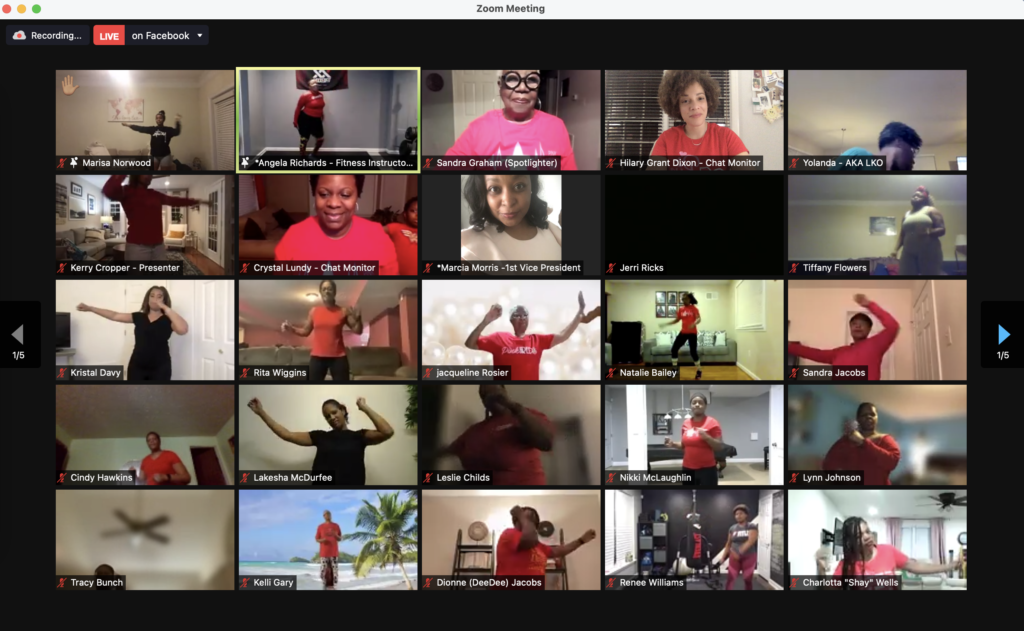 On Friday, February 4, 2022 the ladies of Alpha Kappa Alpha Sorority, Inc., Lambda Kappa Omega Chapter®, in partnership with the Educational and Charitable Foundation, hosted our annual Pink Goes Red for Heart Health event. This year our theme was Stepping Out Against Heart Disease. Our guest instructor, Dr. Angela Richards of Mixxed Fit, led us on a 45-minute fitness dance exercise, and we shared ways to reduce our risk to cardiovascular disease. Over 200 registrants participated, and three lucky participants won a signature tank top from local Black women-owned Glamourina. Check out Dr. Angie's playlist Here.
Lambda Kappa Omega Celebrates 45th Anniversary
By: Candace Johnson, Anniversary Celebration Committee
On Saturday, December 18, 2021, Alpha Kappa Alpha Sorority, Incorporated®, Lambda Kappa Omega Chapter celebrated the 45th anniversary of the chapter's chartering. This milestone was memorialized with a virtual celebration titled "Honoring a Legacy of Sisterhood and Service." The event was attended by over 100 chapter and community members.
The highlight of the event was the announcement of a $4,500 one-time scholarship in honor of the 45th year of the chapter's chartering. This scholarship will be awarded to an African American female graduating senior from a public high school in Fairfax County, VA to commemorate several of the chartering members being former Fairfax County Public School teachers. The scholarship application can be found here: LKO Charter Scholarship.
Lambda Kappa Omega received a proclamation from the Fairfax County Board of Supervisors read by Supervisor Dalia Palchik and a special congratulatory greeting from the National Pan-Hellenic Council (NPHC) was provided by Northern Virginia NPHC President, Mark Forrest, who is a member of Alpha Phi Alpha Fraternity, Incorporated. The event honored the work and sacrifice of the chapter's deceased members, including charter members Sylvia Mundy, Bondell McKnight-Barnes, and Barbara Hampton-Barclay. A special tribute was paid to Ruby Jarrett-Joyce, who served as an active member of Alpha Kappa Alpha Sorority, Inc. for 74 years.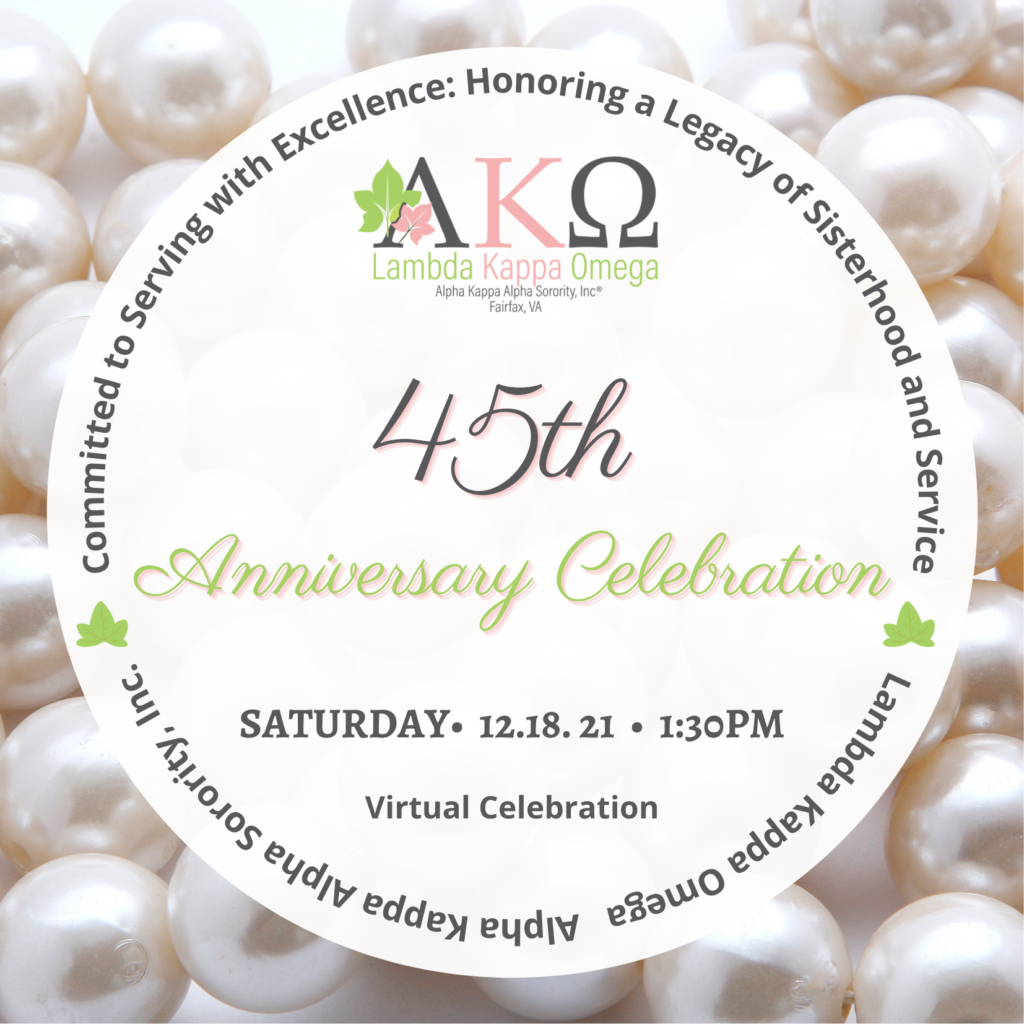 Pretty Aware Campaign Delivers Cancer Care Bags
By: Kerry Cropper, Health and Wellness Committee
In January 2022, Alpha Kappa Alpha Sorority, Inc. Lambda Kappa Omega Chapter in partnership with the Educational and Charitable Foundation (ECF), was able to touch the lives of 30 underserved women undergoing chemotherapy for breast cancer and their caregivers through the Pretty Strong Campaign. The Pretty Strong Campaign was established to provide education and resources surrounding breast cancer. The bags were delivered to Life With Cancer (LWC) located in Fairfax. LWC expressed their gratitude for the generous donation.
ECF, which is a 501(c)(3) nonprofit organization, sponsored this event, which was managed in partnership with Alpha Kappa Sorority, Inc., Lambda Kappa Omega Chapter. Contributions are tax-deductible and benefit ECF's community programs.
The Arts Committee Discusses Acclaimed Novel and Film Passing
By: Regina Myers, The Arts Committee
On, Sunday November 14, Alpha Sorority, Incorporated™️, Lambda Kappa Omega Chapter led a virtual discussion of the Harlem Renaissance and Rebecca Hall's film, Passing, an adaptation of Nella Larsen's 1929 novella of the same title. Participants were encouraged to read the text in advance of viewing the film.
In this video, our guest facilitator, Mrs. Carla Newsome McManus, founder of the Urbane Renaissance Society, provides background information on the Harlem Renaissance before discussing the film/novel.
Spreading a Little Holiday Cheer During Spirit Week
By: Tracy Epps, Sisterly Relations Committee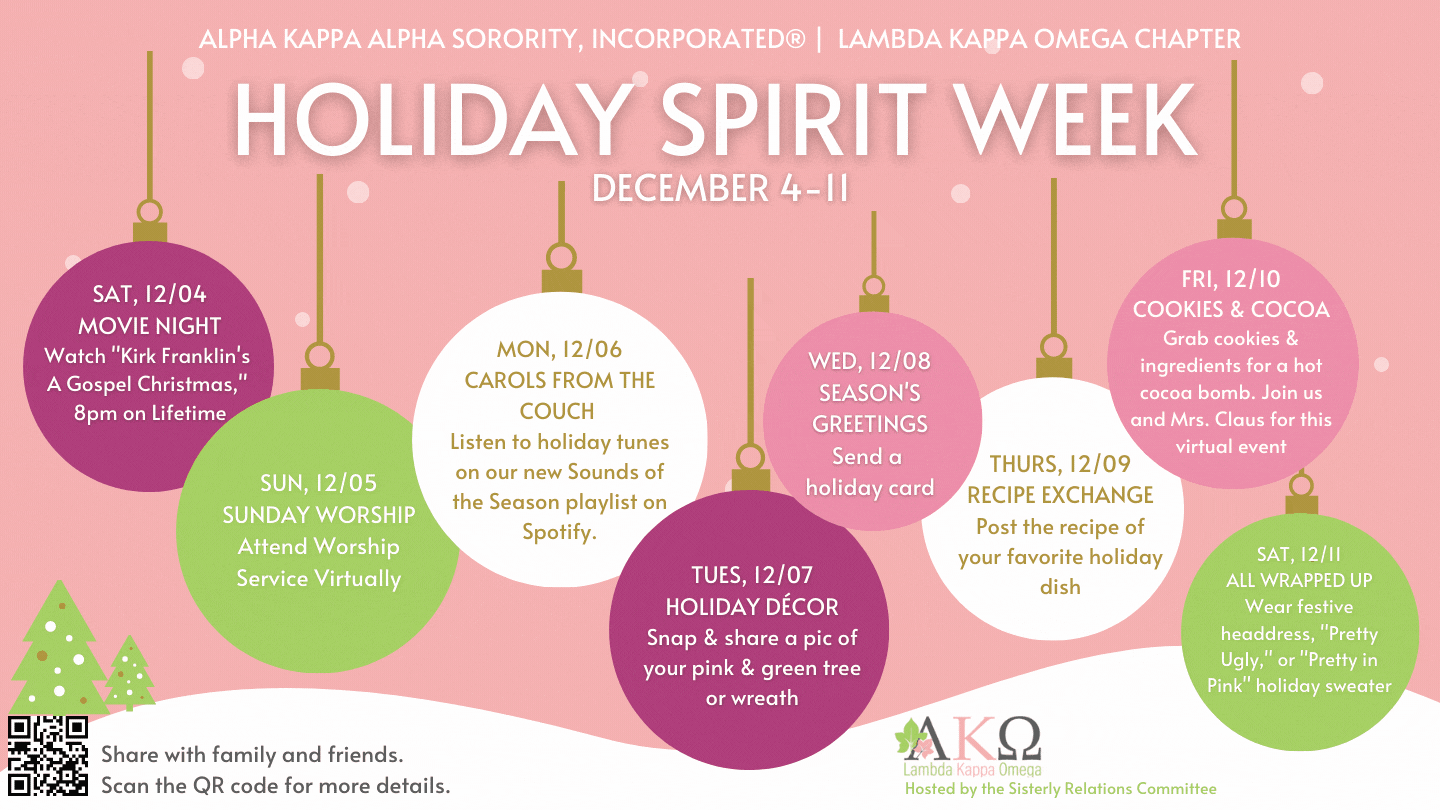 Calling all Lambda Kappa Omega members, family, and friends! You're invited to help celebrate this holiday season. Join in on the fun and show your support for Lambda Kappa Omega's Holiday Spirit Week. Tune in to our social media pages and email for reminders and updates. We'll use the #LKOSpiritWeek hashtag for our posts and photos, and we invite you to do the same!
Spirit week starts Saturday, December 4 and wraps up on Saturday, December 11th.
Saturday, December 4
MOVIE NIGHT, All Day Virtual Event | Put on your favorite pajamas, pop some popcorn, and join Lambda Kappa Omega for its Spirit Week movie selection: Kirk Franklin's A Gospel Christmas on Lifetime! Share your fun photos with us on social media using #LKOSpiritWeek or by emailing: LKOSisterlyRelations@gmail.com. Check our Facebook page for an easy herbed popcorn recipe.
Watch the new movie trailer.
Sunday, December 5
SUNDAY WORSHIP SERVICE, 10am Virtual Event | Join Lambda Kappa Omega for Sisterly Virtual Worship at Alfred Street Baptist Church at 10:00 a.m. Visit Alfred Street Baptist Church YouTube Channel
Monday, December 6
CAROLS FROM THE COUCH, All Day Virtual Event | It's cold outside. So, stay inside and sing along to Lambda Kappa Omega's favorite "Sounds of the Season"
Tuesday, December 7
HOLIDAY DÉCOR, All Day Virtual Event | Are the stockings hung by the chimney with care? Share your fun photos with us on social media using #LKOSpiritWeek.
Wednesday, December 8
SEASON's GREETINGS, All Day Virtual Event | It's time for holiday mail! Send a holiday greeting to a family member or friend. Need some help? Download our free digital card below or send one on your own.
Thursday, December 9
HOLIDAY RECIPE EXCHANGE, All Day Virtual Event | It was love at first bite! What's your signature dish that your family craves? Share your fun food photos, a photo of your favorite holiday recipe or a link to your favorite holiday recipe with us on social media using #LKOSpiritWeek.
Friday, December 10
COOKIES & COCOA, 7pm Virtual Event | Join us for cookies and cocoa! Sign up for this live festive virtual event filled with holiday fun for you and the kids. A Lambda Kappa Omega member will show us how to make hot cocoa bombs. Then, grab some cookies and the kiddies for a special treat! "Mrs. Claus" will read a holiday story for "kids from 1 to 92". Connection details will be emailed to Lambda Kappa Omega members, who will share with family and friends.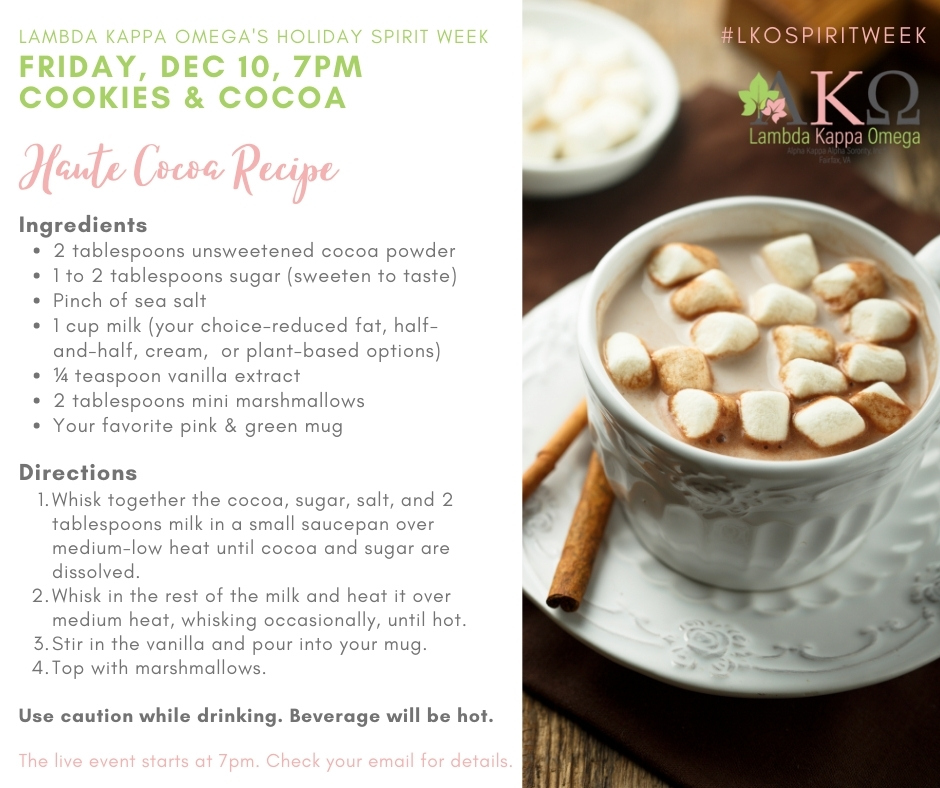 Download our Free Digital Holiday Card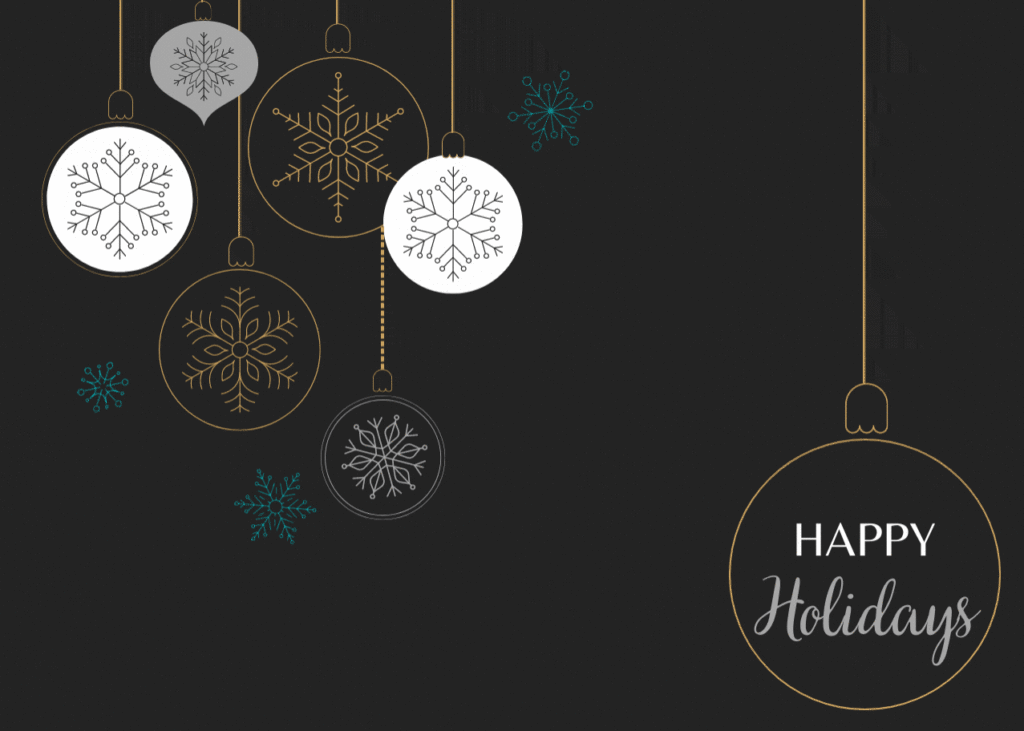 Pretty Aware Initiative Delivers a Striking Blow to Breast Cancer
By: Corina Adams, Health and Wellness Committee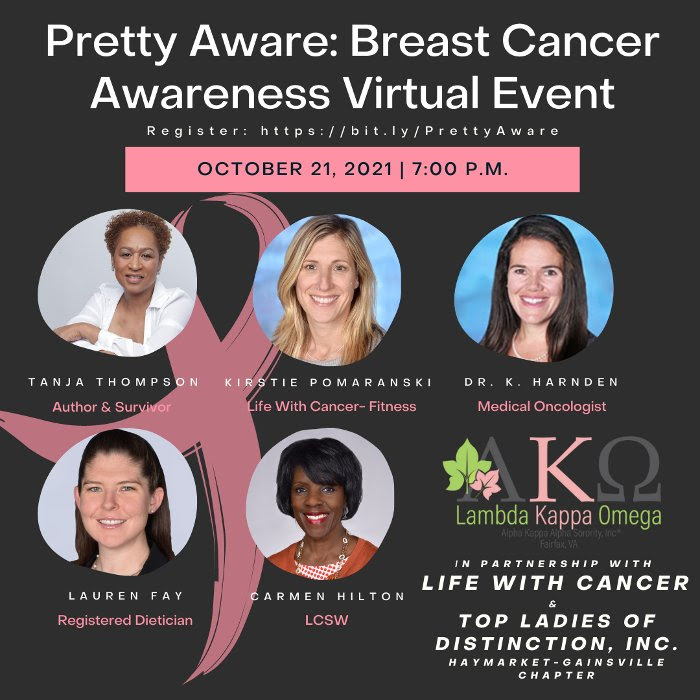 The ladies of Alpha Kappa Alpha Sorority, Incorporated™️, Lambda Kappa Omega Chapter on Thursday, October 21, 2021, hosted an informative virtual panel discussion as part of their Pretty Aware Breast Cancer campaign. Lambda Kappa Omega partnered with Life with Cancer and the Top Ladies of Distinction, Incorporated, Haymarket-Gainesville Chapter to feature leading Fairfax-based experts in women's healthcare for a riveting discussion on how to cope with and beat breast cancer.
Tanja Thompson, a two-time breast cancer survivor and renowned author of "What to Expect When You Weren't Expecting Breast Cancer" kicked off the event with the touching story of her initial diagnosis and how she ultimately turned tragedy into triumph. Tanja, a decorated Air Force veteran with no family history of breast cancer, explains how she learned to turn to others for help and support during one of the darkest times of her life. After beating cancer, Tanja later discovered that it had returned, leaving her distraught and in despair. Again, Tanja embodied her soldier mentality and fought her way to recovery. Tanja started the Breast Cancer Move Foundation to inspire and encourage women to remove the shame and stimga from their diagnosis and to seek the resources that are available to them.
Next, Dr. Kathleen Harnden, a medical oncologist, led an in-depth discussion about breast health and breast cancer. Her discussion included her recommendation that women administer routine self breast examinations and request 3D mammograms when they reach 40 years of age. Women with a family history of breast cancer can also request a mammogram before they reach the prescribed age. Dr. Harnden explained how advances in mammography and technology have allowed physicians to identify and treat cancer earlier than ever before.
Next, Registered Dietician Lauren Fay and fitness guru and breast cancer survivor Kirstie Pomaranski tag-teamed a discussion about how lifestyle changes can improve the bodies ability to fight off cancerous cells and improve overall health. Lauren is board certified in oncology nutrition (CSO) as well as nutrition support (CNSC). She explained how scientific research on food intake had helped uncover correlations across food and diet and breast cancer diagnosis. The American Institute for Cancer Research (AICR) recommends that incorporating a plant-based diet, minimizing stress, and avoiding meals after 8:00 p.m. can decrease the likelihood of a breast cancer diagnosis. Kirstie went on to describe her own personal journey with breast cancer and how she was able to cope by incorporating a healthy lifestyle into her daily regime. Kirstie discussed the importance of mindfulness and finding healthy ways to cope with stress.
Carmen Hilton, LCSW rounded out the panel discussion with a presentation on how to cope with a breast cancer diagnosis and to support those dealing with a new diagnosis. Carmen emphasized the need for support and healthy outlets to deal with depression and anxiety, such as prayer, meditation and a network of trusted supporters.
To view a recast of our event in its entirety, press play below.
Lambda Kappa Omega Announces its First Black Business Award
By: Marcia Morris, Programs Chair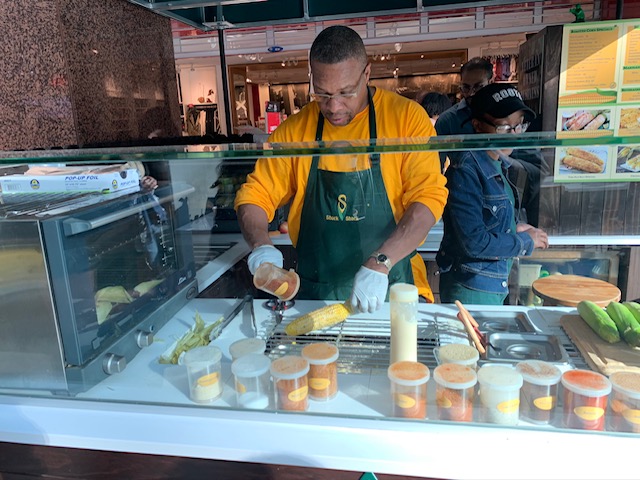 Entrepreneurship and the Black Dollar 365 is one of the main components of Alpha Kappa Alpha Sorority, Inc.'s Target 3: Building Your Economic Legacy. In support of this initiative, Lambda Kappa Omega is pleased to recognize and celebrate small businesses in the DMV area.
Our first award recipient is Vince Johnson, a proud military veteran, and proprietor of Shuck Shack located in Pentagon City.
Shuck Shack opened in Pentagon City Mall in October of 2019. After a strong start, the location temporarily closed in the spring of 2020 due to the COVID-19 pandemic. During that time, Mr. Johnson added a food truck version of Shuck Shack that contracts with Ft. Belvoir and Ft. Myers.
The Shuck Shack offers roasted corn coated with a tasty mixture of spices, a popular Mexican style street food. Its full menu includes items such as sweet butter, cream, parmesan cheese, chili lime, and mojo marinade, just to name a few.
Although the mall location has reopened, sales are still down considerably from what they once were. Mr. Johnson is not deterred, "I have come to the realization that all I can do is hold on, keep the doors open, and pray." We are certainly doing the same for the Shuck Shack and all small businesses in our area.
We look forward to highlighting small businesses in the area and sharing their stories of success. Please help us support their growth.
If you know of any Black-Owned Businesses in the DMV area, let us know about them by completing this form.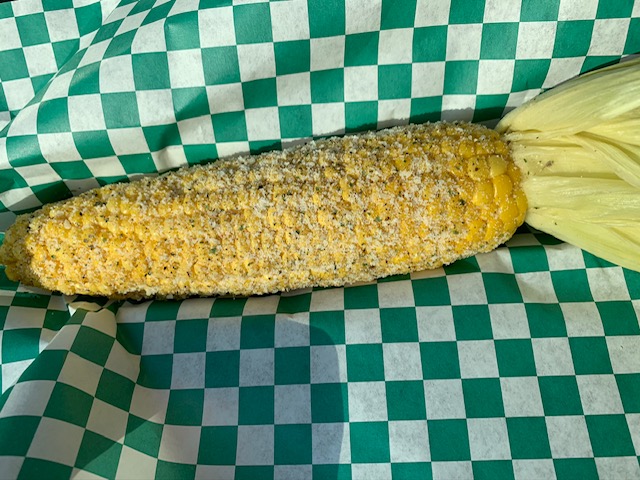 Lambda Kappa Omega Flexes Green Thumb on Earth Day
By: Corina Adams, Health and Wellness Committee
As more than 100 nations across the globe embarked on the 51st celebration of Earth Day, it only felt right to flex our newfound green thumbs (and pinkies) and honor a few Black-owned enterprises along the way.
On April 22, the ladies of Alpha Kappa Alpha Sorority Incorporated, Lambda Kappa Omega chapter joined forces with local entrepreneurs, Nutritionist Stephanie Hall and Urban Farmer Matthew Williams, for a virtual Sip and Plant event.
This event was part of AKA's national Women's Health target program and was focused on raising community awareness of critical health issues impacting African American women's, nutrition and wellness.
The Sip and Plant event kicked off with a brief introduction from integrative nutrition coach and plant-based chef Stephanie Hall, who told her personal journey of transforming her allergies and low energy levels into a lifestyle change.
In 2005, Stephanie left her decades-long career in IT to pursue her passion, adding that "juicing is one of my favorite topics because it's the foundation for healthy eating."
Stephanie led virtual participants through a demo on how to combine organic kale, romaine, cucumber, ginger root, fuji apples, and lemon to create her famous Greenery juice, which is known for its gentle rejuvenating quality.
Next participants were greeted by Matthew Williams, a local urban farmer from Wilmington, DE. Matthew is a living testament of his mantra, education + exposure = economic opportunity.
While attending Delaware State University, Matthew participated in a nationwide urban farming tour. Inspired by the tale of one local farmer in Virginia, who owned land that was previously toiled by slaves, Matthew was determined to learn more about farming. Upon returning to Delaware, Matthew learned about the Brownfield program that seeks to assist those interested in rehabilitating property.
Matthew currently farms on a quarter acre lot in downtown Wilmington, one of nine parcels he owns throughout the city.
The Sip and Plant concluded with Matthew leading 60 participants through a virtual demonstration on how to plant potted herbs.
Target 3: Operation AKA Assist and Reclamation Event
By: Marcia Morris, Programs Chair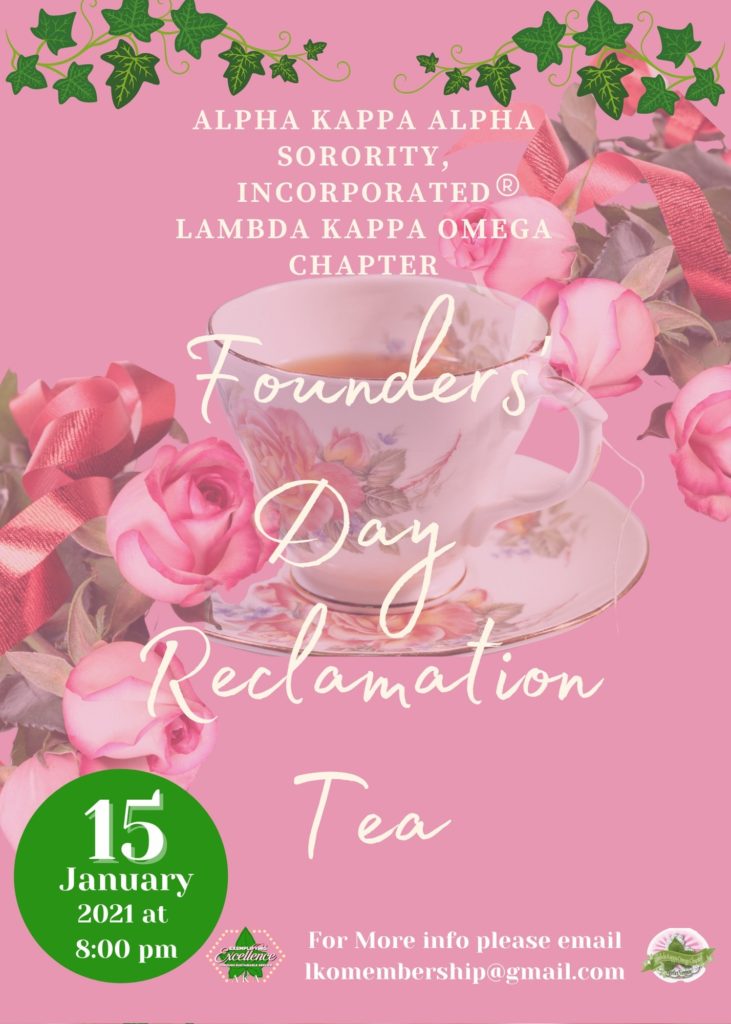 Lambda Kappa Omega (Fairfax, VA) Social Action and Membership Committees partnered for the second year in a row to increase awareness of the plight of homeless women, teenaged girls, and children. In support of Operation AKA Assist, members donated a total of $4092 to BRAWS (Bringing Resources to Aid Women's Shelters), a Fairfax County, VA 501c3 organization that provides pads, tampons, and new undergarments to women and teen girls and critical supplies to children in transitional housing and emergency shelters.
The virtual venue for the evening was a lively celebration of the 113th anniversary of our founding. Lambda Kappa Omega's Membership Committee hosted current chapter members and guest inactive members for a combination Founders' Day and reclamation event. Participants were encouraged to set up their prettiest pink and green tea sets and dressed to impress in their favorite AKA tee shirts and finest tea party attire for the affair. The evening's entertainment included break out rooms, a virtual fashion show, and an AKA-themed scavenger hunt.
By: Kerry Cropper, Health and Wellness Committee Co-Chair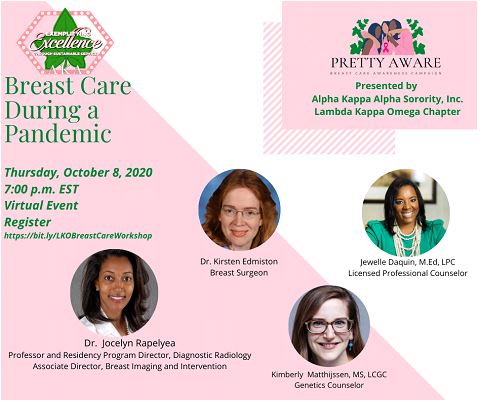 In observance of Breast Cancer Awareness month, Alpha Kappa Alpha, Lambda Kappa Omega chapter on October 8, 2020, held a virtual event tilted, "Breast Cancer During a Pandemic" which featured providers who specialize in breast care. Specialists included Dr. Jocelyn Rapelyea, who specializes in breast imaging and intervention; Dr. Kirsten Edmiston, who specializes in breast surgery; Kimberly Matthijssen, who specializes in Genetics Counseling, MS, LCGC; and Licensed Professional Counselor. Jewell Daquin, M.Ed, LPC. Interested in learning more about breast health resources in Fairfax, Virginia, visit Fairfax Radiology. Below are two helpful videos about mammograms: